"Perfect Pitch Competition" 2016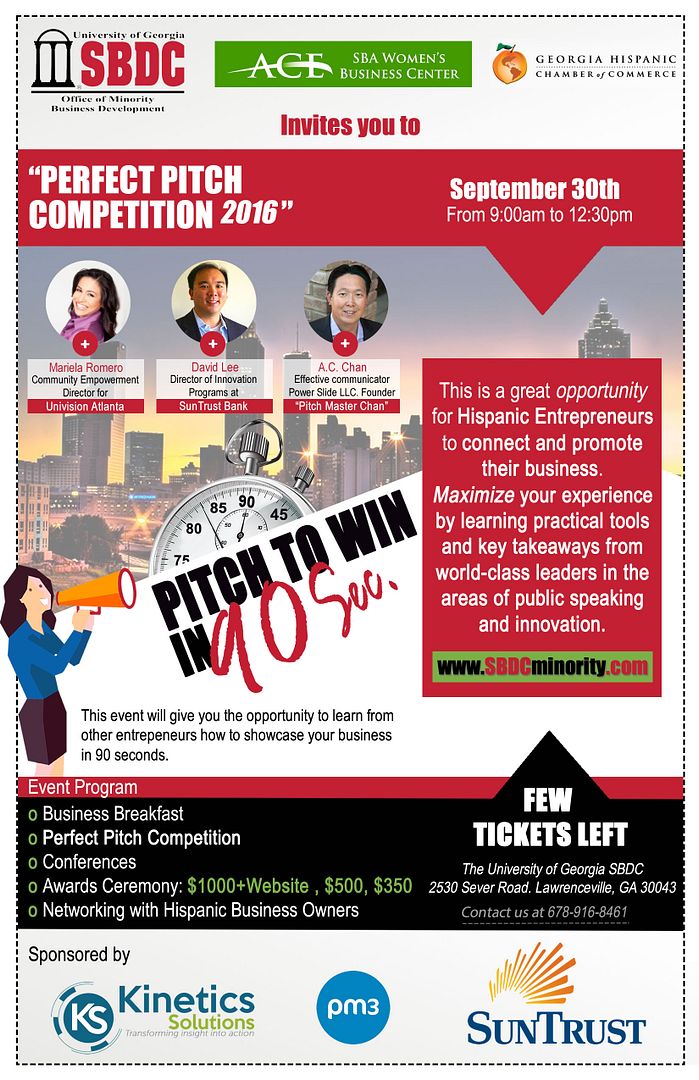 The Perfect Pitch Competition is a great opportunity to network with Hispanic Business Owners and attend Conferences with David Lee – Director of Innovation Programs at SunTrust Bank and A.C. Chan, best known as "Pitch Master Chan", founder and "Pitch Master" of "Power Slide LLC".
This event is also to promote a great tool for Hispanic Entrepreneurs in order to help them build confidence when speaking to potential clients. The goal of the 90 Second Pitch is to interest your target enough in your idea that he or she wants to meet with you again.
Agenda
09:00-09:10  Opening Speech
09:10-09:20  Keynote Speech
09:20-10:00  First Speaker – David Lee
10:00-10:30  "Perfect Pitch Competition"
10:30-11:00  Second Speaker – A.C.Chan
11:00-11:20  Winner Announcement
11:20-11:30  Closing Speech
11:30-12:30  Networking, Sponsor Booths
Who should attend?
Entrepreneurs looking for more clients.
People who want to Expand their Hispanic community network.
Business owners that want to learn essential communications and networking skills.
Perfect Pitch Competition
UGA Gwinnett Campus 
Friday, September 30
9:00 – 12:30 PM
Get your tickets here